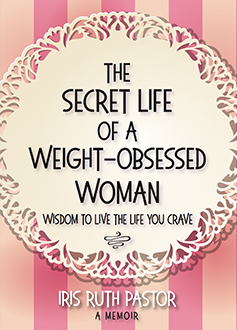 Buy the book here:
Amazon
Barnes & Noble
Kobo
Indiebound
Books-a-Million
About the Book
Do you think about food too much? Envy those "skinny bitches" and wonder how they do it? Use the needle on the scale as a measure of your self-worth? Are you "just ten pounds" away from happiness?
You are not alone. Iris Ruth Pastor too was a weight-obsessed woman who found a way to eat all those tempting goodies—without putting on a pound. At age eighteen, she began bingeing and purging daily and didn't stop for forty-six years.
How did she tame the triggers that led to bingeing and purging? Deal with the ravenous monster within? The Secret Life of a Weight-Obsessed Woman is Iris's story of ripping down the façade of her "perfect" life and taking steps to break free of her lover ED (Eating Disorder, not Erectile Dysfunction!).
If you are grappling with anything that prevents you from operating at full throttle, Iris's bluntly honest, humorous, and inspirational story reminds us all that recovery is within our reach.
---
What people are saying about The Secret Life of the Weight-Obsessed Woman: 
"In this honest, insightful, and inspiring book, Iris Ruth Pastor shares her story of recovery from a decades-long battle with bulimia. She brings a poignant and relatable honesty to this memoir, using both wisdom and humor to bring readers on the journey from despair to healing." 
~ Dr. Nina Savelle-Rocklin, PsyD
"Congratulations on your outstanding book. I have encouraged all my patients to buy it. You are amazing. Great writer, speaker, and role model for midlife women struggling with eating disorders."
~ Dr. Ann Kearney Cooke, The Cincinnati Psychotherapy Institute
---
Media:
FOX13: Local woman overcomes odds after eating disorder
BRISTOL HERALD COURIER: What's great about Valentine's Day?
MOTHERHOOD MOMENT: Healthy Habits: Eating Disorders in Older Women
CONSUMER HEALTH DIGEST: The Secret Life Of A Weight-Obsessed Woman- Addressing Your Children On Weight-Problems
A FRUGAL LIFE: The Secret Life of a Weight-Obsessed Woman
THE MINDFUL WORD: Fight Your Eating Disorder: Without letting toxic New Year's resolutions get in the way
KTRS-AM (Saint Louis, MO): The Secret Life of the Weight-Obsessed Woman
THRIVE GLOBAL: Breaking Free From Dieting
SIXTY+ME: The Secret Life of Weight Obsessed Women
About the Author:
Iris Ruth Pastor is a writer, speaker, and storyteller whose bedrock belief is that our lives are always a work in progress. After just a few months of blogging for the Huffington Post, her blog was designated one of "The Must-Read Blogs" for those over 50. Her musings, weekly newsletters, social media postings, and speeches underscore her engaging message of the importance of self-care—of Preserving Your Bloom.
Iris travels the country both entertaining live audiences and encouraging them to use their talents and resources to be the best they can be. While doing so, she tries not to be judgmental, cloying, hypocritical, whiney, snippy, overly sensitive, or over­whelmed. Sometimes, like all of us, she even manages to carry it off.