I ran across the funniest video the other day; it's called Instagram Husband: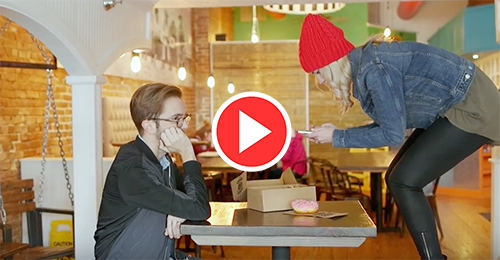 I will admit, there is something compelling about the idea of having a husband who is at your beck and call. Okay, I get he's a little bitter, bored and downright disgusted by his partner's relentless pursuit of the "perfect shot" to portray their "perfect life."
But isn't it pretty nice to have:
A spouse who supports you and your antics? Projects? Interests? Even obsessions?
A spouse who isn't at a loss for useful things to do to fill his time? And maybe even helping you with yours?
The holidays are here – we're taking a break from our normal daily routines. We're taking time off. We're reconnecting with family and friends. Reflecting on our own dreams and goals. Considering not only the aspirations of our spouse or significant other, but his prominence and importance in our "perfect life." So if one of your New Year's resolutions might be turning a Couch Potato Hubby into an Instagram Hubby in 2018, consider the following:
Does he truly enjoy being with you? And you with him?
Does he embrace the adage "Happy Wife, Happy Life"?
Does he need a hobby?
If your answers are "Yes," you may be able to pull off the mighty feat of having an Instagram husband who is not annoyed, irritated and frustrated. He may be an Instagram Husband who is actually invigorated, thoroughly engaged and attentive in portraying those special moments with you.
But if you fall short and abandon the whole project, that's okay too. Living those perfect moments AND those more mundane moments is what life is all about. The most important thing is that he's by your side while doing it – whether he's snapping pictures or not.
Happy holidays! Keep Preserving Your Bloom,
Iris