Okay, I admit it. I am totally off the wall.
Have you ever struggled with attaining some major milestone for months – heck, years – and suddenly you arrive at the finish line?
That's how I felt Wednesday afternoon around 2:30 pm when my book went live on Amazon. What does that mean? It is now available for pre-sale. It exists. Not just in my imagination. Not just in Microsoft Office Word on my computer. Not just in my editor's inbox. Not just in boxes at the publicist's office. It is real. Anyone with access to a computer, iPhone or iPad can view it. And order it.
Am I starry eyed? Teary? Numb? So very happy? Yes. Yes. Yes. Yes. Broke out the bubbly. Danced around the family room couch. Hugged my husband hard. Immediately texted my mom, siblings, sons and daughters-in-law that the longed for, momentous occasion had come to pass.
YIPPEE!!!!!!!!!!!!!!! It is the end of the beginning. Finally.
What's publishing like these days? Chaotic. Exhausting. Tumultuous. Ever-changing. Fraught with despair, delight, self-doubt and exhilaration. Depending on the moment. Sometimes all at the same time.
And going public with a very touchy subject was a whole new experience in itself. Maybe you can relate?
Have you ever equated your self-worth with the needle on the scale? 
And the further north it climbed, the worse you felt?
Have you ever fell off the dieting wagon again and again and again?
And vowed it would be different tomorrow?
Have you ever berated yourself for eating the first, second or even third piece of chocolate cake?
Agonized over another pair of too tight jeans?
Just knew your life would be better if you lost ten pounds?
I experienced all these uncomfortable feelings, but I took it a step farther. I found a way both to outsmart the scale and eat all those fattening goodies – the dangerous foods – whenever I wanted – as much as I wanted.
The title of my book is The Secret Life of a Weight-Obsessed Woman: Wisdom to Live the Life You Crave. Here is the cover: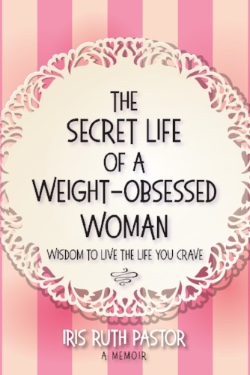 It is a memoir – my honest and personal account of what it's like to live with an eating disorder. But at heart, my book is a story most everyone can relate to – it's about living with an addiction, a bad habit, a self destructive pattern of behavior, a negative  mind-set – anything that prevents you from living life fully, living with joy and purpose and vigor.
We all struggle. The only shame is if our pride or fear holds us back from reaching out for help. My friend Leah Ivey said it best: The Secret Life of a Weight Obsessed Woman highlights the need of self-acceptance and perseverance through extremely difficult times.
What do I wish for each of you? That you Preserve Your Bloom through self-care so that you can live the life you carve.
Iris