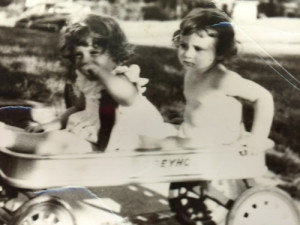 Jeannie was my very first "best friend." She is in front of me in the wagon, which, as you will see, was her default position when it came to our relationship.
Tuesday, September 7, 1954
: first day of school at Bond Hill Elementary.
Our principal, a towering and imposing figure, mandated that each school year begin with all students returning to their previous year's classroom. Their teacher would then march them confidently down the hall and turn them over to their new schoolmarm. It was an exciting and improvisational way to launch the year.
As we all halted in a long line before our new classroom, my beloved first grade teacher leaned down and whispered to me to  step out of line and wait for her to return.  I then watched as Jeannie and the rest of my friends eagerly filed into their new environment.
Puzzled and unhappy, I waited – counting the number of tiles in the Rookwood drinking fountain beside me. I waited some more – counting the number of eye lace holes in my shiny, new black and while saddle shoes.
When my first grade teacher smilingly re-appeared, she walked me to a different second grade class – filled with a bunch of kids I didn't know and –  most importantly – without Jeannie.
I was despondent.
My despondency, interestingly enough, was short lived.  It was a sweet twist: within days, I had made a whole new circle of friends.
Jeannie and I continued to play together daily. We were next door neighbors and had known each other since we were babies. We blew bubbles that burst all over our rosy cheeks, dressed up our dolls in fancy get-up, and wrote endless stories about prince and princesses in faraway lands.
In fifth grade, she moved away and my family bought her house. I eagerly claimed her bedroom for myself – and although my mom adored Jeannie, she was determined to stamp this space with her daughter's own identity. My mom replaced the carpeting, repainted the walls a deeper color, and rearranged my furniture in a different configuration than Jeannie's – amid much protest from me.
For a while, I visited frequently at Jeannie's rambling Victorian residence in a different school district, but by junior high we had lost touch.
The decades rolled by but I learned little of Jeannie. I read of her parents' deaths and a younger sibling's engagement. And I often wondered what paths she had chosen and if life had been kind.
Thursday, August 30, 1989: I watch as my son boards the bus for second grade – sharply reminded of my harrowing elementary school separation. I call my mom to seek an explanation.
My mom pauses and I get the feeling she is choosing her words carefully. I hear an intake of her breath and she begins to talk. "Mrs. Norcross, your first grade teacher, observed firsthand that you and Jeannie were always competing. And guess who was consistently falling just a tad bit short? You. She felt giving you a fresh start with a new bunch of kids would force you to fend for yourself and develop the skills and the confidence that were being stifled."
THANK GOODNESS FOR WISE FIRST-GRADE TEACHERS.
Thursday, March 8, 2001: My mother calls me early in the  morning as I am scrambling to leave the house.
"Have you read today's paper?" she pipes up brightly.
"Yeah, Mom," I quip sarcastically, "in between my languid bath filled with scented bubbles and my leisurely romp through my (very small and very messy) walk-in closet looking for an article of clothing that is not wrinkled, filled with cat hair or too tight across the hips."
She ignores my ill humor. "Top of Page 3," she imparts excitedly. "And call me back."
Disgruntled and frazzled, but curious too, I grab the paper and hurriedly turn to Page 3. My rush to get ready comes to a screeching halt.
Staring back at me is a face I know almost as well as my own – a face I looked at every day from age 6 months to 10 years – the face of my next door neighbor and my very first best friend: Jeannie.
I start to cry.
Jeannie will be in town promoting her newly released book, Shakespeare Behind Bars – The Power of Drama in a Women's Prison..
Friday, March 9, 2001: Contact is made with Jeannie's step-mom, who tells me she's arriving tomorrow, but that I can call Jeannie at her home tonight if I wish.
I decline the suggestion – paralyzed with emotion – too afraid I'll start off by sobbing uncontrollably. She'll think I'm deranged.
Saturday, March 10, 2001: My mom digs up old pictures. One is of Jeannie and me at 23 months old, sitting in a Champion red wagon. I don't miss the fact that she is in front and I am behind her.
Monday, March 12, 2001: We meet. We hug. We cry. We hug.  We cry. We hug. We cry. Releasing each other, we play catch-up – capriciously skipping across and through decades, with emotions continually neutering facts.
In high school, she worked on plays. I worked on my school's newspaper and perfected the art of applying eyeliner.
In college, she worked on becoming an actress in the east. I worked on getting my MRS., with a minor in sociology and communications, in the south.
Shortly after college graduation, I traced the trends and became a suburban wife and mother. She bucked the tide, abandoned acting, and became a free spirited wanderer – intent on cobbling a profession from her passion: redeeming lives through the power of theater.
We both married twice.  She had no children and I had five. And we both became – among a myriad of things – authors and writers.
Seeing Jeannie was like getting one last present long after blowing out the birthday candles – all the more special, because it turns out to be the very best one.
Before we parted, she directed me to write down her name, address and E-mail so we can always be in touch.
She's so bossy. Maybe one day I will work up the courage to tell her that.